Edge of Heaven and Corner of Sea
Our Trip to Greece
Jackson and Agnes He
January 2008
Well, it happened again, another top destination ticked off our most-wanted list. However, given the limited scope of one week, we could do only so little, so a lot more can be gained in a return visit. That'd be in another year.
The Chinese expression, edge of heaven and corner of sea, is often used to indicate the farthest places people could possibly go, such as when they search for something profound or obscure. In Greece, we just about did it, literally as well as metaphorically.
We arrived in Athens on Christmas Day 2007. Not that we had to get somewhere else to observe how a holiday is celebrated, but we got our constraints. First, our kids only had the week between Christmas and New Year off from school. Second, the cheapest tickets were for flying red-eye on Christmas Eve. And third, winter is off season for travel in Greece and we were hoping that fewer crowds would bring us less chance of infection. So there we were, weary-eyed due to the jetlag, and confused because most linguistic input, whether aural or visual, was Greek to us, taking pictures in front (on the south side) of a closed Acropolis in Athens. From the hotel clerk we already learned that the Acropolis was closed, but for the lack of anything better to do, we went over to check things out by ourselves. It was mild, at least not raining as the weather forecast predicted. We took some uninteresting pictures of the Acropolis from afar. Jackson spotted a guard and a ticket-booth-looking structure, so he walked over and talked to the guard. The bad news was that the Acropolis, as well as all other archeological sites, such as the famous Archeological Museum, and sites in Delphi or Mycenae, two other places we'd like to visit, would be closed on both Christmas Day (we understand) and the day after (we were indignant!). The good news was that we could change our plans and visit somewhere else first, especially since we had in our plan a non-archeological site, the Meteora.
We've always traveled independently, planning our own destinations, plans and itineraries. The bright side is that we get to learn a whole lot about our destinations before we even step outside our house. Months prior to this trip, we bought a 700+ page tour book of Greece (Lonely Planet), a detailed bilingual Greece road map, and checked out from our public library video tapes about Greece as well as Greek language learning materials. Traveling independently also enables us to experience up close what the place is like when we actually get there. (More on this later.) But the downside is that there could be all kinds of surprises waiting for us, things that a tour company would know to avoid but a tour book might not have mentioned.
Back in the hotel, we quickly came up with an alternative plan. We'd go to Meteora first, then to Delphi on the way back, and back to Athens last. We checked with our hotel, which could accommodate our revised plan, as long as we were not to change too many times. Ok, we would make sure of the other arrangements first. We asked the hotel clerk to help us to call our hotel in Kastraki, a tiny village at the foot of Meteora. We tried to call the hotel before, from the US, but found out the hard way that Greek is not a language to trifle with. Well, the hotel clerk could not call long distance outside of Athens, until we could produce a phone card.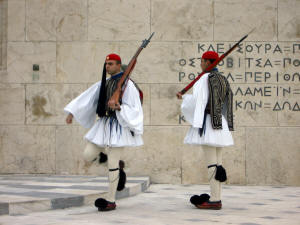 So off to Syntagma Square we went. It's the commonly known best place to get a phone card, or just about anything else. We first tried to buy a card for a mobile phone, but the SIM card and a recharge card cost €15, and yet with an unknown number of minutes. In the end we settled on a plain card for landline phones. This one costs €5, and comes with 5 hours' worth of calls, according to the vendor. We also got to see a change of guard in front of the Tomb of the Unknown Soldiers (but at the time we thought they were guarding the parliament building). On the way back to our hotel, we also checked out the Avis rental car's downtown office. It's a reasonably good-sized office, with cool drinking water, but no car. Not that day, or the next, we were told. But on the day of our reservation, there would be a car for us, because the computer said so. Just outside Avis, a man introduced himself to us, saying that he saw our predicament on our faces, and that he most likely would have a car for us. He asked us to call him in half-an-hour, such that he could walk back to Syntagma Square and check out his "inventory". We were a bit suspicious, but kept his phone number just in case.
Back at the hotel we asked our hotel clerk to help us call the Kastraki hotel. No luck. The person was not happy to be called on Christmas Day. We called up the owner of another hotel, who booked us with this hotel in the first place. No problems, we were told, we'd have a room, and at the same rate. Next, using the hotel's free Internet access, we dialed up Avis, and successfully modified our car reservation to the next day. Then we called up Avis' main number in Greece. Again, no problems, the person reassured Jackson. "If they don't have the car you asked for, they'd give you a bigger car with the same charge!" And that indeed was what happened--although the bigger car, in the medium category in Europe, would fit quite comfortably among subcompacts in the US.
Itinerary
Original
Actual
Dec. 25

Acropolis, the Parthenon
Temple of Athena Nike
Theatre of Herodes Atticus
Plaka, area below Acropolis w/ restaurants, shops

Front of Acropolis
Syntagma Square
Change of guards, Parliament
Queen Amalias Ave., Avis

Dec. 26

National Archeological Museum
Platia Syntagma (Constitution Square), heart of city
Change of guards, Parliament

Meteora
Moni Agiou Stefanou
Stay overnight in Kastraki

Dec. 27

? Temple of Poseidon, Cape Sounion, 70 km south of Athens
Check out subway?
? Ancient Mycenae, Peloponnese Island (Odessey and Illiad)

Moni Agiou Nikolaou Anapafsa
Moni Agias Varvaras Rousanou
Moni Megalou Meteorou
Drive to and stay overnight in Delphi

Dec. 28

Delphi:
Sanctuary of Apollo (the Sacred Way)
Sanctuary of Athena
?Stay overnight in Kalambaka

Sanctuary of Apollo (the Sacred Way)
Sanctuary of Athena
Delphi Museum of Archeology
Temple of Poseidon, Cape Sounion
Stay overnight in Athens

Dec. 29

Moni Agiou Nikolaou Anapafsa, nearest to Kastraki
Moni Megalou Meteorou, the best known
?Stay overnight in Kalambaka

Acropolis
Ancient and Roman Agora, etc.
Plaka
Temple of Zeus; Hadrian's Arch

Dec. 30

Ossios Loukas, on the road between Delphi and Athens

National Archeological Museum
Syntagma Metro Station
Between Heaven and Earth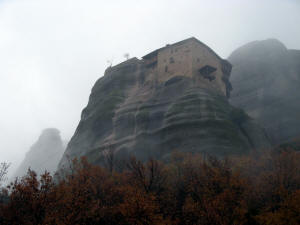 It is often said that even though heaven is the best place to live, nobody is in a hurry to get there. Well, some Christian monks found a way to get half way up, in a place they named Meteora. Derived from the same root word as meteor, Meteora means a place between heaven and earth. In this special region of central Greece, rock formations less than a hundred meters wide can go up several hundred meters high. Monasteries and convents built on top of these rocks were remote and easily defendable, and were never converted by Islamic forces from Turkey and beyond.
On the evening of December 26, way after all the tourists were gone, there was a special church service at the Moni Agiou Stefanou (Monastery of St. Stephen). With a heavy fog/cloud or light rain in the air, and a zigzagging high-grade hairpin mountain road without pavement for much of the way, there was a real danger of mishaps on the way up there and a good possibility of taking a speedy shortcut to heaven. But the church overflowed with people, and we could only listen from the outside, albeit in a place sheltered from rain. There was an electronic sound system broadcast the happenings from inside the church, and at one point we were able to take a peep into the church. It seemed rather small, apparently comparable in size to our living room, but the multitude of singing voices seemed to suggest that there might be more than what met the eye. A gentle whistle got the attention of a delivery man, who was carrying on a tray four or five loaves of bread, each shaped like a huge circular pound cake, uncovered. Is that the daily staple for the nuns in the Moni, or the Eucharist? Either way, the recipient must be able to divine some taste of heaven from the mist and rain.
The next day we visited three other monasteries, each built on top its own rock pinnacle, and each with its own unique characteristics. From the outside, Moni Agiou Anapafsa is like on a farm, with rustic steps under the cover of low-growth trees, leading up to a door built into a gap between rocks. Congruent with its laidback style, the monastery was closed between December and March, and not a living soul could be discerned in the surroundings. Of course from the outside door there must be quite a way yet leading up to the monastery's buildings. There was also a steel cable facility leading up the mountain, but the gauge is not thick enough for carrying the weight of a human being.
Next up was Moni Agias Rousanou, another nunnery. Yiran wasn't feeling too well, so Agnes stayed with her in the car, and Jackson took Luran up there just to see the outside. The riches of this nunnery must be extensive, such that they could afford to build the walkway up the mountain with perfectly polished and meticulously aligned large granite blocks. Possibly due to its lack of historical imprint, the workmanship seemed better than that of the Forbidden City in Beijing! At the top, a couple of bridges with steel beams and wooden planks led across gaps between rocky outcrops. We entered and exited the building guarding the entrance of the nunnery with a couple of other groups of clueless tourists, only discovering a nun in a booth with a €2 sign. Not wanting to leave Agnes and Yiran behind for too long, we didn't pay the fee to see the inside.
At a fork of the road, we pulled up to a pair of signs to investigate, and a couple of other cars caught up with us. The people in the lead car asked whether we knew where we were going. Well, we hadn't gotten our bearings yet. Signs in Greek take time to read, and English, if any at all, is translated loosely and variably, and therefore could not be easily reconciled with what's in our tour book. So in the end, in accordance with our relative stopped positions, they took off to the left, and we to the right. Our direction led to the Moni Megalou Meteorou, or Grand Meteora Monastery.
The Grand Meteora Monastery was the out-of-this-world home for a former emperor of Serbia, Symeon Uros, who brought his wealth (tax-deductible?) to the monastery. But that must be too long ago, as the monastery has by now not that much to show for the former wealth of an emperor, lacking the ostentation of Moni Ag. Rousanou. The monastery is quite large, though, having the good fortune of a bigger piece of rock to build upon. To reach the monastery, one has to climb up a flight of stairs, enter a doorway built into a seemingly solid piece of rock, walk along a gap behind a vertical piece of sheet rock (not the plasterboard kind, but the real thing), and go up the mountain more via several more flights of stairs. One novelty of this monastery is the ascension tower, with its mechanized pulley system pulling a net, for lifting the occasional orthodox monk who insists on it. One story about it goes like this: a guest asks the host whether the rope is ever replaced, and the host answers: "Of course! Whenever it breaks!" Another striking feature of this monastery is the ossuary, a room with shelves full of human skulls. Is Emperor Symeon Uros resting among them?
Deities and Destinies
Well, the Meteora monastries were built but about 600 hundred years ago — nothing to compare with the 4500-5000 years old Minoan and Mycenaean civilizations in this region. The ancient Greek didn't need Meteora. They had many Gods and Goddesses to worship; and the deities in turn took good care of them — otherwise how do we explain that their civilization surpassed most of their contemporaries by a couple of millennium? On this trip, we visited temples in Delphi, Athens, and Cape of Sounion.
Delphi was regarded as the center of the world by the ancient Greek. Mythology has it that the two eagles released by Zeus at the opposite ends of the world eventually met in Delphi. The place is located in a stunning setting, nestled on the slopes of mountains, extending into a vast valley. The temple (sanctuary) of Apollo is where in the ancient times (about 2000-3000 years ago) an oracle told fortunes, prophesizing the destinies of many who were mighty and powerful, including Pericles, Alexander the Great, Emperor Hadrian and Julius Caesar. Among the many fascinating Delphic oracle stories, this one is what Luran would like to tell: a king asked the oracle whether he should attack the Persians. The answer: if he did, he'd destroy a mighty empire. What the king (Croesus of Lydia) didn't get was that the empire that would fall was his own!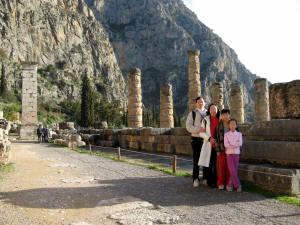 We paid a visit to the sanctuaries of Apollo and Athena, which are but only a few hundred meters apart. Fortunately it was a cool day, as the hike was not on level ground, and was completely not covered by any shade trees. Following the good advice of our hotel clerk, who happened to also work at the Delphi Archeological Museum during the day, we also visited the museum, which hosts most of the more treasured archeological finds. One intriguing set of items on display is miniature sail boat and horse carriage, etc., made of shells and other delicate materials. These are among the precious tributes people brought to the temple of Apollo.
In Athens we visited many sites. The most impressive is of course the Acropolis, which is a group of buildings built on a rocky hill in the middle of the city. The main structure on the Acropolis, Parthenon, was built as a temple of Athena, the protective goddess of Athens, housing a huge cult statute of Athena, and was a huge monument of the cultural and economic success of the Greek classical era. Unfortunately the original statute was taken to Constantinople where it was eventually destroyed, probably to harvest its gold gilding, and the Parthenon converted to a Christian church. Further down in history, it was converted into a Muslim Mosque, and then destroyed during the Ottoman Empire's rule, when the ammunition the Ottomans stored there exploded during warfare. Much of the classical era marble sculptures were taken by Lord Elgin to Britain, which we had the good fortune of seeing at the British Museum in 2005. The Parthenon is still being restored at the moment, and it is therefore covered in scaffolding. We saw a small replica of the Athena statute in the National Archeological Museum in Athens.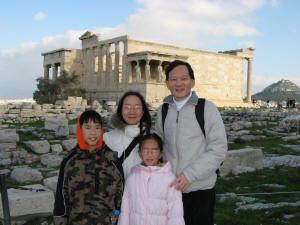 Another building still partially standing on the Athens Acropolis is the Erechthion, which is made famous by its beautiful Porch of Maidens. The maidens in place these days are replicas, with 5 of the original ones in the Acropolis Museum, and the other one in British Museum. Unfortunately, the old Acropolis Museum is closed, and a bigger and better new Acropolis Museum, originally said to open in 2007 (Lonely Planet), is not open yet. (What is the difference between a year and two, when we are talking about a civilization of a few thousand years?)
We also visited many other archeological sites in Athens, and the most impressive ones among these are the Ancient Agora (market place) and the Temple of Zeus. We learned that in the Ancient Agora, Socrates and Plato asked their questions, expounded and debated their ideas. It was here that democracy was first tested and the first human society based on reason and rationality was developed. It is no less great than the majestic Acropolis. There is an almost complete temple in the Ancient Agora, from the same time period as the Parthenon. Dedicated to Hephaestus, its main charm is its being a prototype of the Parthenon. Its Doric style columns are simple and unassuming. In contrast, the Temple of Zeus is mostly in ruins, and its Corinthian columns are more fanciful and extravagant than the Ionian ones used for the Erechthion. Having these three column styles in such close proximity gave us a deep impression of each. During the trip and afterwards, Yiran proudly labeled her own apple eating style "Corinthian" as she likes to bite the apple from all angles and leaves ornate marks.
Corner of Sea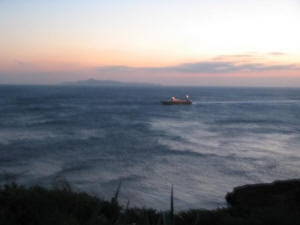 Greece being a country possessing more area of sea than land, things of water are as a matter of fact more important to the Greek culture than to many other great cultures. The Temple of Poseidon, at the Cape of Sounion some one hour's drive to the southeast of Athens, literally stands on a corner of land that jags into the sea. We arrived at dusk, when daylight had mostly faded away, and the historical site had closed its doors. The only other structure at the place is a restaurant, which was open. However, we were not there for the warm and comfort, which would not be the most fitting sensation to be associated with the spirit of the sea.
It was an unremarkable evening in Athens, where we eventually stayed the night. But just 70 km away, on Cape of Sounion, the wind was blustery, while the sea was demonstrating the milder side of its mighty power. What a place to build a temple for the god of the sea! However, possibly due to the diminished reliance on the sea, this place has become rather deserted in the intervening years, as evident from the comparably small road leading to the cape and the quiet towns and villages along the way. Occasionally a tour bus came by, but still, it felt nothing like a suburb of Athens. The Temple of Poseidon sits on a hilltop, overlooking the sea below. The building is in ruins, with only a few pillars standing. Some say that if you look at the sky through the pillar frames, this temple looks like a portal to heaven. It was too dark for us to see it, but we could certainly feel it.
On Independent Travels
As always, we planned our own trip, choosing where to go, what to see, and where to stay. We had to do a bit more preparations, including learning some basic Greek (not enough to live on, but to show a bit of respect for the host country). On this trip, things didn't work out as planned. We also met a tour group from California, which arrived and left Athens on the same planes as we did, and they visited a few more destinations than us. Would we be better off relying on the professional travel agencies?
No.
First, we got to see a lot more of Greece than any one in the tour group, I'd say, even though we might have visited fewer locations. Unlike them, we got to interact with the locals, getting our food from mini-markets, cafes, restaurants, and a B&B (and paying an outrageous €5 per person for nothing more than plain bread and milk), getting lost and asking for directions. In Athens, when a person we inquired with didn't know the noodle bar we were looking for, he walked with us to the nearest Japanese restaurant that he knew of, a show of warmth and hospitality impossible to experience if we were in a tour group. On the metro, Agnes sat opposite a local lady holding a bunch of flowers. Agnes said to her: "Beautiful." The lady apparently understood English. She fumbled her bouquet for a moment, and surprisingly handed about a quarter of her bouquet to Agnes with a smile! Agnes said, "efxalisto poli (thanks much)!" The lady returned an even bigger smile.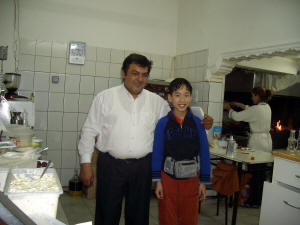 In Trikala en route to the Meteora, we had a late lunch at a restaurant where the owner spoke little English. We walked in. The owner asked us "Eat?", his hand making a gesture of putting food in the mouth. We nodded. He returned with a menu completely in Greek. Our trouble was obvious and ominous. So Agnes asked if we could choose food from his kitchen by pointing. The man gave us a broad smile and happily took us to his kitchen. We ordered dolmades and tomato salad and spinach pie and a well marinated and wonderfully tasting meat dish. It was one of the best meals we had. Also in Athens, Jackson happened to be behind a quarrelsome Athenian in a busy American chain restaurant (starts with an M), who took a moment away from his two separate arguments with two cashiers to scold him for not ordering his food in Greek. That kind of spirit is again likely not displayed to a tour group member. Some might rather miss these and other interactions with "foreigners"; but not us. If we expected everyone to treat us and talk to us like Americans, we would probably be better off to go see the Parthenon in Nashville, Tennessee instead!
We arrived in Delphi in the evening, without a hotel reservation, and without a plan — we didn't know where we'd end up that evening. The street is very narrow and parking along the side of the road is so difficult and troublesome that at one point of time a tour bus was pinched by parked cars on both side of the main street leading to Athens, and it in turn blocked all the rest of the traffic. Fortunately for us, when we finally found a place that we could stop our car, Agnes happened to recognize a hotel by the road side, from her reading of the Lonely Planet book back home! Not only did we get a room, they also offered us to park our car in front of the hotel, with half of our car on the street, the other half on the sidewalk, taking up the space previously occupied by two flower pots!
On our way from Cape of Sounion to Athens, we faced a couple of road signs that were unexpected. One of them had the word airport in it, while the other one mentioned Athens. Not knowing enough Greek, we only recognized this much, and took the road to Athens. We eventually realized that the first sign is for "Airport Toll Road", while the other one is "Athens without Toll". Well, that just means we took the road unintended. But we followed this local road into Athens, asking a police for direction at one point of time, and got to where we wanted to with the extra benefit of seeing a whole new part of metropolitan Athens that we otherwise would not have seen.
Jackson regrets that he taught one Greek the wrong English. When he was ordering a sandwich from a cafe near our hotel in Athens called "Coffee Time", he found that the woman at work there does not understand the word "lettuce", so instead he called it "salad", knowing that there is a Greek word of the same root. It's only hours later and miles apart did he remember that Greek salad usually does not use lettuce! The next time when he went to the same store and asked for "lettuce", pointing with his finger, the woman corrected him with: "salad!"
Other "mistakes" we made on this trip include having a meal on the (in)famous Kydathineon street in Plaka, where according to Lonely Planet "the food ... is generally ordinary and overpriced"; and thinking the guards in Syntagma Square were guarding their parliament building. Both were recognized after the fact, from reading the book we bought ahead of the trip. But from the readings before and after the trip, we are quite confident that we learned more about Greece than those in that guided tour group!
From the preparations, we also had two interesting encounters even before we got to Greece. One is that when we ate out at a local diner, we had a waitress who happened to be Greek. We told Luran and Yiran that the waitress spent more time with us because we stood out among her guests — just imagine how many people in this suburb of New York are interested in learning the Greek language! In the other instance, a fellow traveler at the JFK airport overheard Luran talking about Agmemnon taking the Greek army to fight the Trojans, and gave us a long lecture and his strong opinion that the Trojans should also be considered Greek!
History and Beyond
So, this was another high-impact trip. We learned how myth and history are interwoven in human imagination. We saw with our own eyes that the Renaissance's astounding achievements (which thoroughly impressed us when we visited Italy in 2006) became possible because of the foundations laid by the ancient Greek civilization. (We saw for example, a Greek statue from the classical period (2,500 years ago) that could very well be the precedent to Michelangelo's La Pieta!) We understood from this trip that a long history itself does not necessarily bring about advancement; it takes history and progress to make cultures and civilizations strong and robust.
In Greece we can see some of the most ancient human civilization carved in marble, which is representative of all the ancient histories of the human race. Anything before that time, we refer to them as pre-historical, meaning humans didn't intentionally leave a trace of their story behind. Alas, carved in stone doesn't make it forever, and after a few thousand years we are left with but a vague idea of their original carved and painted glory. Then came progress, and humans started to record their history on paper. In the last decade or so, we are really onto a path of accelerated progress, going through the ages of magnetic storage, solid state storage, and virtual storage (think of gmail and YouTube). Older recording formats quickly fade away from our lives and the recorded content are in constant danger of going with them.
In a few hundred years, would our era be considered post-historical?