"Torna a Surriento"— Our Trip to Italy
Jackson and Agnes He
August 2006, Long Island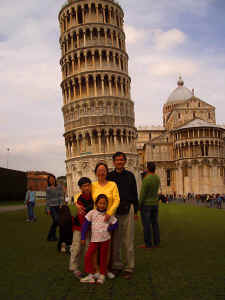 We are not related to Italy in any way and we don't know Italian. But Italy has always been an important part of what we know about the world. We grew up loving "Torna a Surriento" (see below) and many others such as "O Sole Mio" and "Santa Lucia", and admiring all the paintings and sculptures by the renaissance masters. To us, Italy enjoys a sacred status in the realm of les haute cultures. So visiting Italy is like making a pilgrimage to the western cultural Mecca in our heart.
Before the trip, we asked Luran and Yiran what they knew about Italy. Well, they knew pizza, Galileo, Da Vinci, Marco Polo, Enrico Fermi, Mussolini, the Leaning Tower of Pisa, the shape of a boot kicking a soccer ball, and all the musical annotations they have learned from their piano lessons (crescendo, diminuendo, fermata, etc). Well, they then didn't yet know Botticelli, Raphael, Michelangelo, the Sistine Chapel, the Colosseo, St Peter's Cathedral, the Uffizi Museum, the charming Venice, Isle of Capri, Pompeii, Mt. Vesuvius, Paestum, or Sorrento. Our travel in Italy took 10 days in April this year, starting from Rome, to Sorrento in the south, then up north to Venice, Florence and Pisa, and back to Rome. We don't know how much the children can remember about the trip; we know we can only remember a small fraction. We hope the words below will at least record some of our more interesting sights and lasting sentiments.
The South and the Songs
Torna a Surriento
(Come back to Sorrento)
Vide 'o mare quant'è bello!
Spira tantu sentimento.
Comme tu a chi tiene mente
Ca scetato 'o faje sunnà.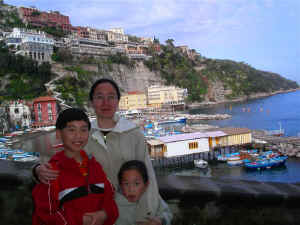 We went to southern Italy in search of what we have heard, both musically and prosaically. After a two-day stay in Rome, we arrived at Sorrento in an evening. We found the town bustling with activity. The only main thoroughfare of the city, Corso Italia, was converted into a pedestrian street. People old and young, locals and tourists alike, with their babies in strollers, were just coming out onto the streets. Stores were open, restaurants with their abundant outdoor seating were busy, and the theater was getting ready for the local production of a musical that features Torna a Surriento and O Sole Mio. With two children and luggage in toll, we didn't feel out of place at all. Only when we asked for directions to our hotel, did the locals realize how foreign we are, and went out of their way to try to get an English-speaking person to show us the way.
Sorrento seems to be a small village built around, and on top, three gigantic pieces of rock. Compared to Naples, the main city nearby, Sorrento is small, pretty, quiet (usually), and tourist-friendly. It's also a nice and convenient location to launch daytrips from, to fascinating local attractions such as the beautiful Isle of Capri, the legendary ruins of Pompeii and Herculaneum, and the scenic Amalfi coast.
One night, after Yiran fell asleep, we heard singing. It was a chorus. It started from the direction of the water, on the opposite side of the hotel. Jackson opened the bathroom window and peeped out, but nothing could be seen. The song stopped, and all was quiet again. Then, it came back, the same tune, solemn, heavy, and in a measured tempo. Jackson stuck his head out of the window again, and still, there was nothing. Then Luran shouted: "Open the shade! Quick!" In haste we pushed the button for the shade over the balcony door, wishing the motor could go ten times faster so that we could still catch whatever was going on. When the shade finally went up, we saw down below, on the steep and winding mountain road, a large precession was going by: several people holding icons, a choir in uniforms, then many people carrying a large icon on a float — possibly of the Virgin, people with lights, and maybe a few sightseers trying to join in the march, getting their candles lit while following on. In a while, the song ended, and the people marched on in silence. It was such a sight.
A City of Two Tales: Pompeii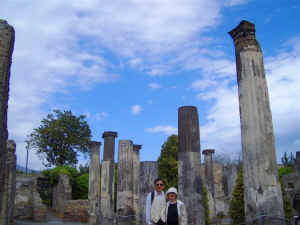 If you love stories of the phoenix – tales of resurrection, immortality, and glory rising out of the ashes, you would then find Pompeii most enchanting. It is an ancient city in southern Italy which was completely demolished in 79 AD by the eruption of the nearby volcano Mt. Vesuvius. It lay frozen in time for 1700 years under many feet of volcanic ash until the 18th century when archeologists began a long, slow excavation. So the first tale of the city is about life 2,000 years ago at the height of the Roman Empire. We got to see the ruins of the Temple of Apollo, the Forum (a square that was the heart of the political and religious life of the city), government offices, private houses, theatres, gladiator courts, along pebbled streets that look a lot like ours today. The second tale is its resurrection which began more than 200 years ago. Liquid plaster was injected into the voids left by the decayed human bodies, and excavated when it solidified, bringing back to life the last moments of the people and their activities. Although the casts are crude, we can still see the postures of the people when they were dying, and imagine the fleeting emotions in their minds. More recently, through analysis of the bones, scientist even found out the speed of their demise. What can be learned from this frozen picture of an ancient society? For one thing, our life is remarkably similar to that of the people living more than 2000 years ago! Life withers, returns and mutates. Places and persons shift in and out of previous and future lives, under intricate and inexhaustible forces.
Isle of Capri
The picturesque Isle of Capri sits not far from Sorrento, in the Mediterranean Sea. A hydrofoil scampered over the water, taking us to the harbor of the island with high speed, a headache and an upset stomach. Once at the harbor, we found ourselves lost among the hundreds of tourists and a handful of locals. A tourist helped us to find the ticket office, and we traded that information with another tourist for the place to take the funicular to the town of Capri, on top of the mountain.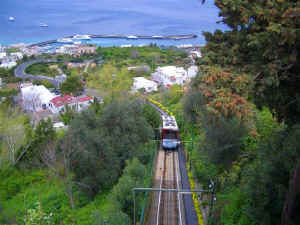 The funicular is a marvel of engineering. Riding on a rail line that has a nearly constant grade, the rail cars have sloped floors to counteract the grade. Two sets of short trains are designed to share a single set of rails, with a cable and pulley system to not only balance the two cars so they don't require too much energy to run and to stop, but also to synchronize them so that they pass by each other exactly around the middle of the line, where a short siding was built precisely for that purpose!
Up at the town of Capri, near the funicular station, in addition to a beautiful view of the mountainside and the harbor, one is treated with fancy buildings (all tourist traps) connected as a giant three-dimensional puzzle. Going down and turning around in a dark alley under a building, which seemed to lead to someone's basement, we found ourselves in the middle of a mountaintop piazza! A hundred meters away from the center of activities, behind an upscale hotel, interesting stone houses and manicured gardens lay with untold stories. On a quiet side street, we made a phone call to reserve tickets to Uffizi (in Florence). In this Garden of Eden, the reception is first-class—five bars!
The Greek outside Greece: Paestum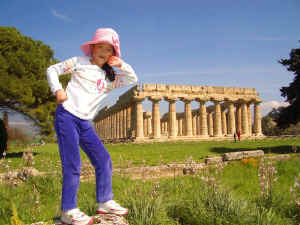 The only tourist site in southern Italy not easily reached from Sorrento is Paestum, which we visited on our way from Naples to Sorrento. This is a Greek site dated back to more than 2,000 years ago, with skeletons of three huge temples standing in a vast area of ruins. The biggest temple was dedicated to Poseidon, the Greek God of the Sea (Neptune to the Romans). Compared to the other places we visited in Italy, Paestum is a rather desolate place, where few tourists frequent—its small train station was apparently deserted, with nobody attending on a weekend day, and with no signs pointing to the Greek ruins which lie straight across but are not visible from the train station. But there are plenty of signs to local accommodations, in case people get lost.
The Triple Play
Southern Italy was certainly very enjoyable, but we couldn't resist the temptation of the traditional tourist traps of Italy, the triple play of Rome, Venice, and Florence. In light of the richness of what we saw, our words are bound to appear pale and hollow. We can only zoom in a few scenes.
Stories in Stones
In Rome and elsewhere, sculptures are omnipresent. Wherever you look, whichever corner you turn, there is something there in stone, telling either a Christian legend or a classical Roman/Greek myth. Of everything we saw, the single most moving piece lies inside Vatican's St. Peter's Cathedral (Basilica di San Pietro).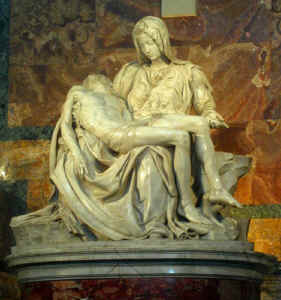 There was a woman, who had a son. From angels and prophets, she learned that the purpose of his life was far greater than can ever be imagined by any life, and yet he would die a terrible death. Then one day, it became true. She held him for one last time. His body, limp and cold, was now precariously balanced in her lap. What would be her emotions? Despair over her unfortunate fate of having to bury her own son? Anguish for his predestined torturous death? Deference to his divine predicament? Satisfaction over his final fulfillment of his holy mission?
As you must have understood, this is the story of Mary and Christ. In Michelangelo's portrayal, the marble sculpture of "La Pieta" (meaning "pity" or "compassion") shows a woman with peace, tranquility, transcendence, illumination and faith in face of great pain and sufferings in life. Christ's body, disproportionally small, is cradled in Mary's right hand, as if he were a baby again. Mary's left hand is open, in resignation. It seems half of her wants to keep him as her human son; the other half is ready to offer him to the divine. Instead of grief, anguish, or desperation, her face emanates softness, serenity, solemnity, and an ethereal transformation of this immense sorrow. This is the only piece of art, anywhere, that has brought tears to Agnes. It alone is reason enough for a trip to Rome.
The Merchant of Venice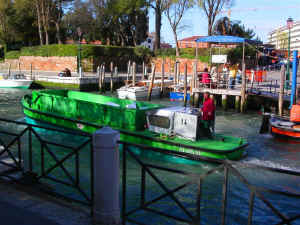 To someone born and raised in China, Venice is perhaps the most exotic city in the west. For better or worse, we went to Venice with images of water alleys, gondolas, architecture that lines the Grand Canal, and picturesque bridges. And that's indeed what we found. The small city, where every house seems to be accessible from both land and water, is every bit as romantic as expected. The most unexpectedly interesting sight is the garbage boat (see right), found only in early morning.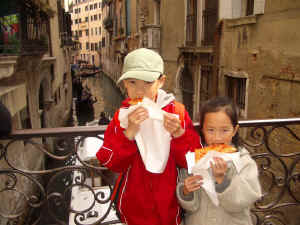 Besides its web of waterways, Venice also has a glorious history. The Republic of Venice was founded on trade and existed from the 9th to the 18th century. In the Middle Ages, Venice became extremely wealthy and powerful through its control of trade between Europe and the Middle East. We visited its Doge's Palace (the Doge was the city state's chief magistrate, comparable to "Duke" in English) and were overwhelmed by its affluence (golden stairs, gaudy paintings and sculptures, etc.). Given the big impact this small city state had on the world and the unique splendor of the city, one cannot but respect the merchants of Venice. Although we didn't meet anyone who demanded a pound of flesh, we did encounter one, just off Piazza di St Marco, asking for €30 for a Margareta (plain) pizza!
The Supreme Synthesis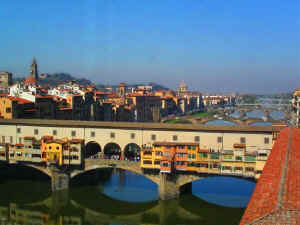 In Florence we were lucky to get into Uffizi without having to stand in line for two or more hours, having followed a friend's advice and called ahead of time (from Capri!) to reserve tickets. Botticelli's paintings gave us such pleasant impressions that we bought a fabric print to hang in our home. We were there also just in time to catch Uffizi's special exhibit "La Mente di Leonardo".
Can you imagine anyone who paints, sculpts, and designs (anything from war weapons to churches, fortresses, and machinery), who studies nature, flying machines, geometry, mechanics, geology, human anatomy and physiology, who writes backward and in riddles, who creates illusions of space and distance on canvases using precise mathematical theorems, who spends most of his time studying science, either by going out into nature and observing things or by locking himself away in his workshop dissecting cadavers or pondering universal truths, and who does all the above marvelously, mystically, and mischievously? It would have been more credible that Da Vinci had never existed.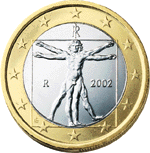 Italian Euro bearing Da Vinci's Vitruvian Man.

But he did. Perhaps more than anyone else, Da Vinci has challenged the boundaries between science and art, motion and emotion, reason and passion. Through his Vitruvian Man, Adoration of the Magi, Virgin with St. Anne, and many other works, he tells us that the supremely elegant expression of the senses is and has to be scientific! The exhibition shows the complexity of Da Vinci's mind and the astonishing range of experiences (anatomical, geological, optic, mechanical, philosophical) he could compress into a single image. From now on, our responses to Da Vinci can never remain at the point of passive enjoyment.
The Human Faces
Our trip was certainly enriched by the various people we met, both locals and travelers.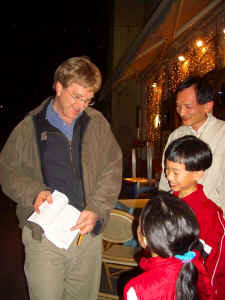 Besides the song Come back to Sorrento, Rick Steves' travel video played an important role in getting us to visit Sorrento. We have become such fans of him ever since we followed his advice and found out what a treasure the small Belgian town Bruges is, more than 10 years ago. And so, it was a wonderfully pleasant surprise that one evening, while dining in a seaside restaurant in Sorrento, we met him in person, checking around in nearby restaurants to make sure that the material in his tour book was still up to date.
Everyday in Sorrento, we would pass by the small shop Fruiti di Carolina, off a mountain path not accessible by motor vehicles. Carolina the shop owner is such a joy to us that we looked forward to meeting her every morning and evening when we were in Sorrento. With little more than "Buon giorno!" (good day) in Italian, we couldn't really converse with her, but our heart was warmed by the affection she showed towards Yiran when she asked for bambina and hugged and kissed her.
On the train to Venice we met Simone, a women's volleyball coach. He's so tall that his head could scrape the top of the door-frame of the train's cabin. And he's such an entertainment to the kids, teaching them how to play volleyball, and wrestling with them using one finger against two hands!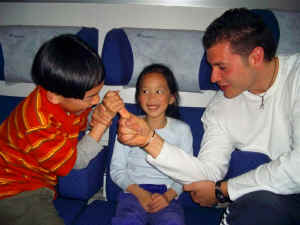 Sitting across from us on the train from Venice to Florence was Marco the artist. He uses computer programs to make cartoons in 2D and 3D. He was more interested in the children than us because he wanted them to give him feedback—and seemed really pleased when the children were amused by his work. On another train, we met Alessandro, a graduate student in astronomy, a native of Sardinia. He and Luran had a lot to share on subjects from Galileo moons to telescopes in Argentina. Seeing that Yiran was reading Harry Potter, he told us that he had read the first five books of Harry Potter in Italian, and then not patient enough to wait for the translation to appear, he read the sixth book in the series in English.
We believe that those who love to travel share something in common – compassion toward fellow travelers. In Paestum, a student from England studying in Southern Italy showed us the way to the Greek temple site. Twin girls from a family from Denvor, England played with our children on a train. A couple from Canada shared with us their experiences in Italy as well as Alaska. A to-be-ordained priest from Africa invited us to visit his Italian hometown in Padua. A total stranger in Capri was swapping information with us on where to get tickets and where to board the funicular… Toward the end of our trip, we found ourselves point out directions for others and Jackson even helped a local person find train information and helped him carry his luggage to his "binario" (platform)!
A Long Lost Song
Jackson has had a song stuck in his mind since twenty years ago, when he was in China. It's an instrumental piece by the name of Isle of Capri. We went to Capri to search for its origin, but alas, with no avail. In closing, we'd like to share it with you. You may press the play button below at your leisure. Enjoy!
Ciao!
---
ps: If the above doesn't work for you, you may download the song here and play it on your computer. For my test, Real Player works fine as long as it's not in the browser, while QuickTime plays it too slowly.