Out of Africa
Our Trip to Morocco, Gibraltar and Southern Spain
Jackson & Agnes He, 2011
August 11, 2010. Our rental car indicated that the outside temperature was about 42°C (108°F). Jackson was under the spell of a mild heat-stroke. Our original plan was to arrive at Yasmina Hotel on the edge of Erg Chebbi Dunes close to Merzouga (southeast Morocco), take a camel ride into Western Sahara and spend that night in a tent in the sand dunes. Well, the depressing heat had definitively deterred us from desiring anything nomadic or romantic. Instead, we were heading to another hotel overlooking Western Sahara but in the comfort of an air-conditioned room.
Agnes was driving. Following a sign to the hotel, we got off the highway onto a piste, a kind of unpaved road made of (or marked on the ground of) clay and gravel, marked by stone cairns, and in spots heaved with sand from the Sahara. Worse still, the clay base of the road was kneaded by the wheels of vehicles and formed a uniform set of sawtooth-like ripples, making rides in a small car such as ours very bumpy and uncomfortable. But we pressed on, attracted by not only the image of Sahara Desert but also the prospect of air-conditioning.
Jackson happened to turn his head and found in astonishment that an SUV was following us—in the desert that otherwise was devoid of signs of human activity in all directions. Oh, no, it was trying to overtake us, as it was driving off of this piste. We slowed down, trying to make it easier for the SUV to pass. But, it didn't overtake us. Instead, the driver looked at us directly in the eye and made urgent hand gestures. Mindful of the hard-(ly) working AC in the car, Jackson rolled down his window reluctantly. The driver poked his head out of his window. It's a middle aged man, fair skinned, slightly bald, in a faded blue Arab robe. He spoke, clearly and commandingly, in English: "Are you Agnes?"
It is a cliché to say that life is more dramatic than literature. But it is nonetheless true. Who could have imagined or believed, that in this obscure corner of the world, a great ocean and two continents away from home, some stranger would call one of us by name?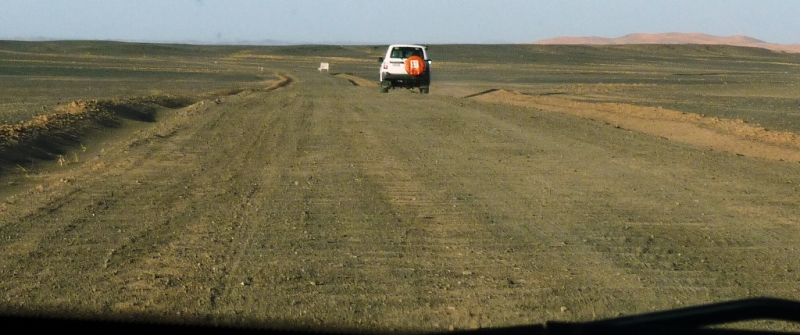 Over the vast gravel and clay desert, an SUV led us to the edge of Western Sahara, with its westmost edge, the Erg Chebbi Dunes, seen to the upper-right of this picture. Ripples can be seen in the piste (desert unpaved road), kneaded by wheels of vehicles and the occasional desert rainfall. Unlike many others, this piste is not marked by two rows of cairns running down the sides.
As it turned out, we were caught red-handed by Yusuf, the owner of Yasmina Hotel, whom Agnes had called from her parents' home in Madrid to arrange for our stay in the desert. He said that he had overheard some Asian language over the phone and so, when he spotted us on the highway, he had a hunch who we were. (During our entire 2 week travel in Morocco, we only saw one other Asian (Japanese) family.) Yusuf insisted that we spend the night at Yasmina. But what about AC? Our Frommer's tour book indicated that Yasmina had no AC, which was why we were heading to this other hotel. Yes, his hotel had AC too, he promised. So we obediently followed him, driving on unmarked pistes in the desert, too embarrassed to even ask for the price he would charge us. Along the way, we got stuck once, the driving wheels of the car spinning helplessly in the loose Sahara sand. Only with Agnes and the two kids pushing from behind, and Jackson at the driver's seat, was the car able to get free. That night, we watched sunset from the edge of the Sahara, cooled in a luxurious swimming pool, and slept in an air-conditioned room. Life is beyond imagination.
Preparation
We spent our vacation in summer 2010 touring Morocco, Gibraltar and Spain (mostly southern Spain) in three weeks. After a few days of rest to recover from jet lag in Madrid, we flew to Marrakesh, Morocco, and gradually worked our way back to Madrid, using two rental cars, one for each continent, and a ferry between the continents. Spain was our natural choice, with its friendly environs and the hospitality of Agnes' parents. Neither one of us had been to the African continent before; Morocco was thus at once both seductively fascinating and slightly frightening to us. We learned before the trip that within Africa, Morocco has the reputation of being the most visited country, due to its colonial history, its geographical proximity to the European continent, and, perhaps consequently, its close economic ties.
To prepare for the trip, we read tour books, travelogues by like-minded free-spirits, and information on the Internet. From home, we booked our first nights' hotels in Spain and Morocco, and the tickets for the Alhambra (in very limited supply, because of concerns for the protection of the ancient structures). We also reserved all the cars we would need in three continents: two for JFK airport (to and from), one for Spain and one for Morocco (a friend of Agnes' parents lent another car to us to tie us over the first few days). Having a car affords us the freedom to go and stay as we please and to mix with locals as we desire. We had driven in Spain before, and Morocco boasts one of the best road systems in Africa—so we learned.
We also bought two pieces of small equipment for this trip: a global GSM cell phone and a Garmin brand GPS with maps for both the US and Europe. One special feature of the Garmin GPS, vs. the one we had previously, is the ability to load custom maps. For this trip Jackson created the road maps of Morocco from OpenStreetMaps, which turned out to be vitally valuable.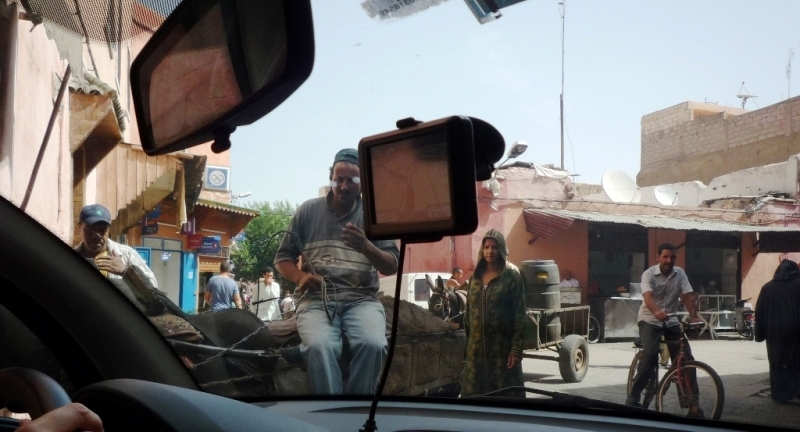 Our GPS, seen attached to the windshield of this rental car, brought us through the center of the Marrakesh medina, where we had to maneuver the narrow alleys and negotiate with the traffic consisting of donkey cars, pedestrians, bicyclists, human-powered push-carts, and the occasional motor vehicle coming from the opposite direction. But other than the unpredictable traffic condition, the GPS, mapping our route using the free map data from OpenStreetMaps, performed remarkably well.