Out of Africa
Our Trip to Morocco, Gibraltar and Southern Spain
Jackson & Agnes He, 2011
Marrakech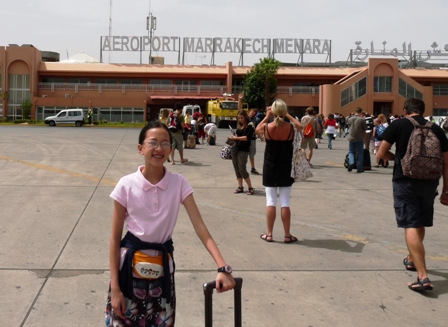 Arriving in Marrakech, one squints from the intense sunlight, and swelters from the intense heat.
All that preparation was not enough for Morocco. When we arrived in Marrakech, we had to walk on the tarmac, as the airport does not use jet-ways. And it was around noon time on a typical summer day (about 39°C, 102°F). Our transport to the hotel was a minivan, which was apparently equipped with AC, but it was not in use. The heat was repressive.
Many years ago while in college, Agnes first heard about a place on earth called Marrakech, from some novella by either Joseph Conrad or Rudyard Kipling. It was for a very long time in her mind a place of impressionism and imperialism. On the way to our hotel, as far as our eyes could see, there was vegetation around, but the most visually striking was the yellow-orange dirt, and the yellow buildings made from it. There were also people around, in cars, on motorcycles and donkey carts, and, when we got closer to the city, on foot. It was rare to see a vehicle with closed windows—air-conditioning is not widely used here, it seems. There were not many people out at this time of day. Most of the city's commerce is carried out during evening hours, as we realized eventually.
Our minivan stopped at the entrance of a small alley, and we were told to take our luggage and walk the rest of the way. In a couple of minutes, we were at our hotel, Jnane Mogador. And the place where the minivan was parked was in fact the most famous square/open-air-market in Morocco, Jemaa el Fna. (The spelling of names in English is not standardized, as English is neither a native language, nor an official one, which are Arabic and French, respectively.)
Marrakech proved to be a perfect starting point for exploring Morocco. It's neither too contemporary, like Casablanca, or Rabat, the royal seat of the current day Moroccan monarch, nor too conservative, like Fes and Meknes. The medina of Marrakech is very much still a Moroccan place, devoid of western-style hotels or restaurants. Its constricted alleys are lined up with shops galore. Human-powered push trolleys, donkey carts, and tourists (including single women) strut and stroll.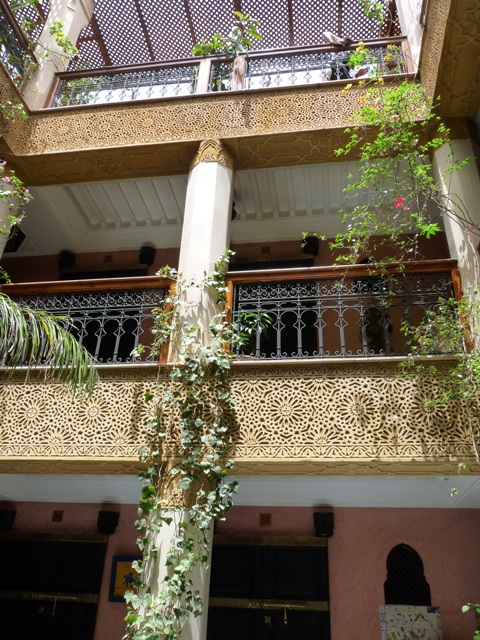 Our Riad hotel. The doors on the ground floor are like ours, which must be kept open during the night to have some chance of letting the heat out. There are no screen-doors inside; the only thing that affords us a little sense of privacy is a fabric curtain.
The place we stayed in, Jnane Mogador, is a traditional Riad hotel. The building is a multilevel quadrangle, with all of the windows and doors facing inside towards a small open-air courtyard. A small fountain is situated in the middle of the courtyard, with no water in it—water is precious here. The closed design helps to keep the sun's stifling heat out during the day; but unfortunately at night there is no easy way for the trapped heat to escape, making sleep difficult and uncomfortable. Instead of glass panes, the doors and windows of this entire hotel are fitted with fabric curtains and latticework. The room has no AC; a small tabletop fan sends out a warm but still welcome breeze.
On the top floor of the hotel is a restaurant, where the food is about twice as expensive as on the square, but one gets to enjoy the AC from a wall unit. The menu is in French and English, and every dish seems to contain some words alien to us. Jackson was happy to introduce couscous to the family, which he had tried before and was certain that the family would enjoy. On the advice of the restaurant owner, who was reading a newspaper in the restaurant and could speak English, we ordered a tagine and a dish of meatballs. The tagine, a completely new type of dish to us, turned out wonderfully delicious. The meatballs, while sounding and looking familiar, tasted foreign and uninteresting.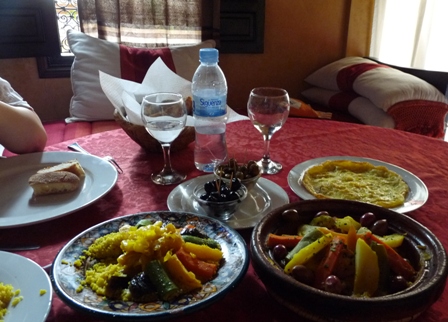 Meal at our hotel's restaurant. The tagine is on the right. The food is rather bland (but the olives are not). Note also the window has no glass pane; nor does the door (on the right).
Agnes started a conversation with the restaurant owner in halting French. She was interested in the name of the container/cooking vessel for the tagine and wasn't quite sure of her comprehension when she heard that it was called tagine as well. As it turned out, she was correct. The dish tagine got its name from the unique cooking vessel, which resembles the special pot people in China use to cook chicken (qiguo chicken, 气锅鸡). Maybe this is the origin of this special Chinese cooking vessel after all, but here in Marrakech the dish is covered with a lot of vegetables, which we deeply appreciated. The vegetables were understandably all the likes of melons and potatoes—no leafy greens in the semi-desert.
Jemaa el Fna
Most cities in Morocco have at least two parts, the Medina, or old city, and the Ville Nouvelle, or new city. We were interested in the Medina, which is uniquely local, and that's where we stayed in Marrakech.

Jemaa el Fna. The section of food stalls starts from the lower-left. A minaret can be seen on the far side, near the middle.
The center of Marrakech Medina is Jemaa el Fna, a large square. During the day it is an open-air market. You see orange juice stands (many of them lined up in neat rows), small vending areas selling trinkets, hats or other local crafts, and performers of all kinds, making monotonous but loud noises that excite the air (they are meant to be music, but the open-air mixing of these sounds produced a sensation that was not entirely musical or joyful). We took a couple of pictures of snake charmers, and paid 10 DH for the privilege. In the evening most of the square is quickly converted into a food court. Aromas of grease and spices spread with smoke and hot air, blown about by the warm breeze that changes direction capriciously. There are several mosques on the periphery of the square, but we infidels could not enter, and had to contend with taking pictures of the minarets from a distance.
The square was full of foreigners, even in this time of hot summer. While they were not the majority, they were certainly everywhere. We met people from the US, Australia, and Europe. And these foreigners were quite comfortable too, some young women wearing dresses that exposed their shoulders, while most local women covered themselves almost completely, including their hair.
One young lady led us to a side street with banks and ATMs. Compared to other streets and alleys leading out of Jemaa el Fna, this street is wider and full of bigger buildings which are not mosques, but oddly this was also the only street that was not completely paved with stone or brick, but was partly covered with gravel. At a corner of the street, facing the square, was a national bank building, with posted guards, or policemen. We inquired about it, and were informed that it was closed. But did they mean that it was closed at the moment (which was obvious), or closed for good? To be polite, we asked if the bank was to open later that day, or the next day, and the answer was that they didn't know. We ended up exchanging some money in Bank Populaire, which was small but efficient.
Near this square was also a circular bus route that we read about in our tour book. We asked for the bus stop, and waited for the bus there, but it never came. Eventually we learned from another person that the bus stopped running a few months ago. There were horse-drawn carriages abound, but in the suppressive summer inferno, this did not feel like an attractive alternative.
Marrakech Medina
From Jemaa el Fna the medina stretches out in many directions. The streets and alleys are generally narrow, winding, unmarked with names (or often it seems), and neatly lined with small shops. Shops with the same type of ware are often bunched together in a common area, which is called a souk. We wandered into a few colorful and yet puzzling souks.
Unlike in other Moroccan Imperial Cities, in Marrakech you see many foreigners wandering around unaided, some in small groups like our family, and some individually. As long as you appear to know where you are going, you don't get bothered. But if you show even just a little hesitation, you attract attention.
We were eventually led by a young volunteer to a pretend tannery, or "dyer's market", as scrawled on a wall, where there was only one shop. The youth who gave us a "free tour" was friendly and spoke good English, but we were certain that his motive could not be entirely altruistic. We declined to buy any of their clothing items (after all, what are we to do with them?), and he refused the tip we offered him. Instead, he asked us to give the tip to an elderly man working at the site. Surreptitiously, the elderly man gave the youth some money before the latter's departure, in large bills (probably worth 100 DH), his fee for leading us into and entertaining us inside this obvious tourist trap.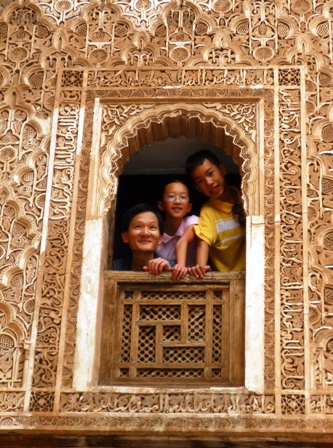 Medersa Ben Youssef, a Islamic School of old times. It's not currently in use, which allowed us a chance to visit.
A bit of distance to the north of Jemaa el Fna is located Medersa Ben Youssef, an Islamic school which is no longer in use, and a museum. The Medersa is a fine example of the 16th century Andalusian-Arab architecture (which to us was an introduction to the grandiose Alhambra in Granada, Spain two weeks later). Richly carved with inscriptions and geometric shapes, it is like nothing we had visited before in Asia or Europe. The central courtyard is surrounded by over a hundred student dormitory cells with tiny windows, intricate mosaic, and latticework. The museum displays few artifacts, leaving a lot of ceramic tiled space for Islamic imagination. In Almoravid Koubba, a few steps away, an ancient site where worshippers washed themselves before going to the nearby mosque to pray, the overseer told us (roughly) the same five English sentences five times, transmitting no message because his English was so very bad, and refused to accept any tip less than 10 DH.
We soon noticed that in the medina we mostly deal with men. While there are women around, few are seen working, and even fewer are working at jobs interacting with customers. From hawkers, shop owners, guides and faux guides, to wait people in restaurants, hardly any was a woman. However, by our hotel, a woman alone runs a "teleboutique", where calling cards, SIM cards, and long distance call service can be bought. Jackson bought a SIM card, charged it up with extra money that lasted the duration of our nine-day stay in Morocco, costing less than US $10 total. He couldn't even verify the amount of credit on the phone, as the sole interface is automated information in spoken French, over the phone, and she conducted her business honestly and efficiently.
On the third day we rented a car, and drove out of Marrakech. Our GPS took us straight through the middle of medina, including Jemaa el Fna. Jackson meandered through tiny alleys, barely inches away from pedestrians, push carts, bikes, motor cycles, and donkey carts, all the while taking care not to stall our little rental car with manual transmission. Luran and Yiran cheered for dad. Agnes had her eyes shut. When we finally emerged from the medina and met the first large traffic circle with lights, we were not sure at all whether we entered it at the right time; we could only rejoice in the fact that our car exited it in one piece!
Ville Nouvelle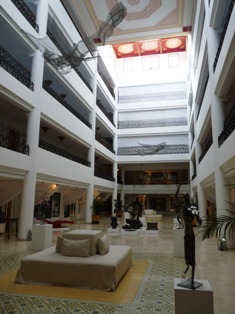 Inside Sofitel Hotel, where we picked up our rental car.
It makes sense that our rental car must be picked up in Ville Nouvelle, or the new city—the medina is just too crowded. The hotel wherein the rental car agency resides, Hotel Sofitel, is nothing short of monumental. Its meticulous manicured gardens, grand entrance, the well-appointed halls with high ceilings, the ostentatiously modern deco, the modern art exhibition, all would have melted perfectly into any great European capitals, but here in Morocco they jab your senses like a silver toothpick.
To get to Sofitel, we had asked the hotel to arrange for a grand taxi (the cheaper, smaller, petite taxi can only take up to three passengers). But instead, the hotel owner got his friend with a small bus, who would be happy to deliver us at 100 DH. We said no, and walked to Jemaa el Fna, where we hired two petite taxis for 60 DH total. The ride took probably five minutes.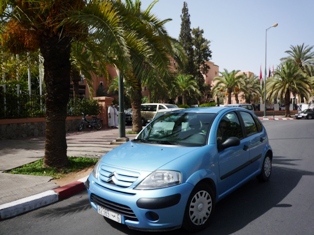 Our rental car is seen right outside of Solfitel.
We eventually found the rental desk of Europcar, but only with a lot of help, because it was a small booth in the corner of a grand and quiet atrium, where nobody is stationed, even though we made an appointment in advance. A sign at the booth declared that we should call one of two cell phone numbers in order to get help, which we did. About fifteen minutes later, a Mohammed called to tell us that it would take him some more time because he had to clean the car. Some forty five minutes after our call, we finally met Mohammed. Once we met in person, he was quite efficient, and sent us off shortly.