Valley of Roses, seen from Itran Kasbah, towards the town of El Kelaâ N'Gouna.
Out of Africa
Our Trip to Morocco, Gibraltar and Southern Spain
Jackson & Agnes He, 2011
Over the High Atlas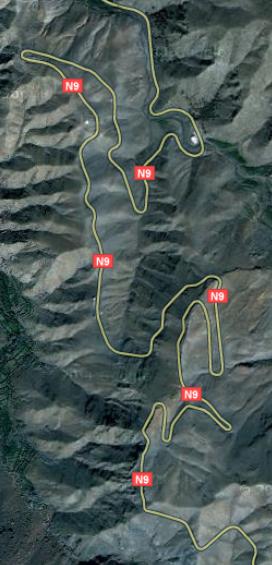 The road twists and turns over the High Atlas.
Outside of Marrakech, the road started out flat and straight, but gradually led us up the High Atlas Mountains, a mountain range that most likely gave rise to the Sahara Desert—its height robs the precious little moisture out of the air that went over it, much like the Himalayas dries the air going towards the Tibetan Plateau.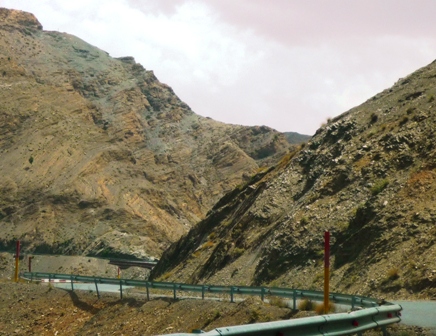 This section of the road leads up to the little notch seen near the top-left corner of this picture. Yes, the elevation change is very dramatic.
From afar, the High Atlas Mountains do not look that impressive—there are no prominent peaks one can spot from a long distance. But they are pretty high nevertheless. On the mountain, the temperature was lower by 3°C or more, a very welcome relief to us. The hairpin road is head-spinning, if not gut-wrenching. The area was mostly barren, more so than in Marrakech, but occasionally we were greeted with a green valley, often accentuated by a clump of houses. From time to time we saw stands selling locally produced geodes and crystals, or people walking up to the road when they saw our car; but most of the time the road in the mountain area showed no sign of human life.
We had lunch at a roadside restaurant on the mountain. This is a tourist trap, convenient in location, and far away from alternatives. We met a family from Japan, accompanied by a driver and an interpreter, who asked us if we are Japanese as well. No, we are originally from China, we replied. Another traveler from Europe helped us decipher a strange error message on the display of our car, which we couldn't understand—we thought the message was in French, but it turned out to be Italian.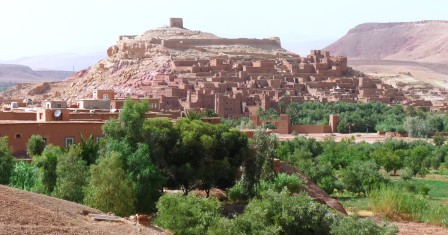 Aït Ben Haddou.
On the east side of the High Atlas is the town of Aït Ben Haddou, a UNESCO world heritage site famous for its unique cluster of buildings, and is a setting for the movie Lawrence of Arabia. The road leading to it was in poor condition, with a two lane paved road reduced to not wide enough for one car to drive on. With the air temperature soaring over 40°C, we decided not to stick around for long. After taking a couple of pictures, we are on the road again.
Kasbah Itran
The town from which we planned to enter the Sahara Desert is Merzouga, which is a bit too far for one day's drive from Marrakech. So for the night we decided to stay at Kasbah Itran. This is not the name of a town, but a hotel-like establishment. We found it online, while staying in Marrakech.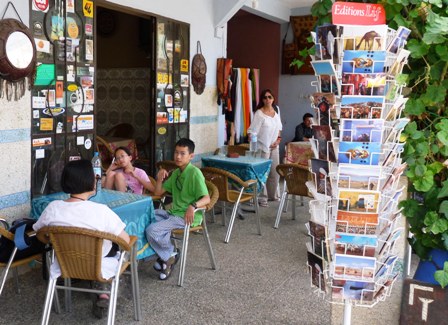 Roadside restaurant on High Atlas.
Getting to Kasbah Itran was a bit tricky. Their website does not provide an address (which probably does not exist), our GPS does not have it (our map, made from OpenStreetMap.org data, was not extensive), and here in Africa, unlike in U.S or Europe, Google Maps does not allow exporting points of interest to the GPS. When Agnes phoned Itran, she got the name of the town El Kelaâ N'Gouna, but couldn't figure out the detailed directions to the hotel, either in French or in English. We headed for El Kelaâ N'Gouna anyway. It is situated in a huge oasis, known as Valley of Roses, a rare sight within a couple hundred kilometers.
By evening time we arrived at El Kelaâ, and we made one more call at the intersection in the center of the town. Again Agnes first talked to someone in French, and then with someone else in English, without gaining the knowledge as to where we were to go. But hearing that we were parked under the Western Union sign, the person on the other end of the phone call offered to come over and get us. In about ten minutes, we made eye contact with someone driving a green truck, followed him out of town, and parked on top of a precipice. Down below, the failing light of dusk glimmered over a small creek in a broad and green valley, where two apparent dilapidated earthen castles testify the passage of time and the glorious days of a bygone era.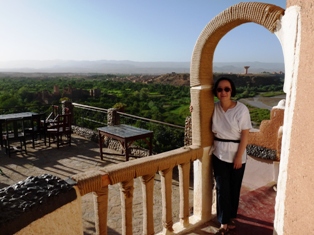 One corner of Itran Kasbah.
If you are looking for heavenly places on earth, Kasbah Itran can be one. Built in Berber style, it is not big or luxurious by any measure, but it is exquisitely situated over the Valley of Roses, away from the bustle of the road or town. The rooms are small, unnumbered, and unmarked altogether. Ours has a tiny bathroom, as well as a small balcony, overlooking the 50 feet cliff and the Valley of Roses below. Herds of cattle and sheep come to drink at the creek morning and evening, insects and amphibians sing through the night, and wild life browse around from the valley below and the air above. It was out of this world.
Our room was the "chambre dernier (last room)", as we were told several times when we called ahead. While we thought it was a warning that rooms were running out, it turned out to be the last room along the corridor—due to our family size and our preference for AC and in-suite toilet, we were assigned the "last room", one probably with the best view, but in which the two beds took up so much of the limited space that moving around was difficult, and Jackson scraped his ankle on the "bed frame", one made out of rough pieces of cheap wood. The AC did not work, and the sink was tiny and blocked by a mirror, such that we couldn't brush our teeth over it.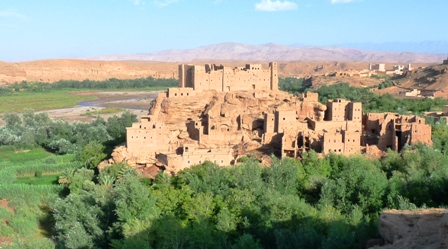 Seen from Itran Kasbah, a giant clump of deserted buildings witnesses the slow passage of time in the Valley of Roses.
The staff at Itran was supremely trusting and accommodating. As we checked in, no one asked for our passports or even our names. There was no form to fill and the room rate was agreed upon orally. There was no fixed check-out time ("whenever you are ready", we were told) and meals would be served at any place we chose in the terraced Kasbah, outside or inside, up or down the levels. Dinner was included in the price of the room, which was welcome, considering the spectacular view of the location and the absence of any restaurants in the neighborhood. We were given a choice of dinner with meat or without—there was no question as to other details of the meal being offered. But as we waited and waited on the balcony, and the last twilight faded into darkness, a darkness accentuated by countless stars in the sky, our hunger was overtaken by anxiety and eventually drowsiness. It did not occur to us that this was the first day of Ramadan. By the time dinner did come, it was so dark that we couldn't see what we were eating, and had to ask for a light be brought to us. Even with the light, however, we still couldn't see the food; only our teeth could tell us that what we were eating included very tough lumps of beef.
Most Moroccans are Muslims, and to them Ramadan must be observed devoutly. Other than when travelling, Muslims don't eat while the sun is up during the month of Ramadan. After the sun sets, they quickly eat a "breakfast", go to a mosque to pray, and come back to take a big meal. At least that is what we were told when we eventually got to Ifrane. And that could explain why our dinner at Itran was so late—our meal was likely only served after the staff had taken their big dinner after dark.