This stunning lake stopped our heart at the first sight, and we made an unplanned stop at Ifrane for three days.
Out of Africa
Our Trip to Morocco, Gibraltar and Southern Spain
Jackson & Agnes He, 2011
Ifrane
Ifrane looks like an affluent suburb of distinct European style. It is a ski resort in the Middle Atlas region, also known as the Little Switzerland of Morocco. While only about one hour's drive to either Fes or Meknes, it is nested in a tree-covered mountain and is thus so much the cooler in temperature.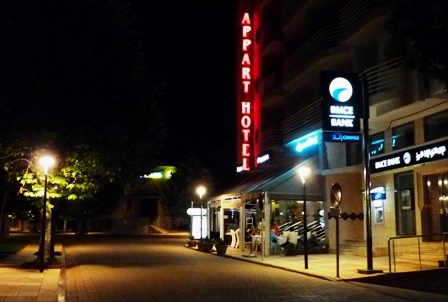 Our hotel in the quiet and temperate Ifrane. As can be seen, the ground floor is a restaurant.
Perhaps due to Ramadan, Ifrane was very much a sleepy town during the day. When we arrived, there was hardly anybody on the street, except for a middle-aged man who magically appeared to "help us" the moment we parked our car in the city center. We intended to check out the Hotel Chamonix at the corner, which not only was mentioned by someone near the lake, but also was featured in our tour book, but the man insisted that we should stay at Apartment Hotel, claiming that Chamonix was dirty, expensive, and without "climatisation" (air-conditioning). After getting some cash from the bank, which observes an early-closing Ramadan schedule, Jackson checked out both of the hotels, which were within 50 meters from one another. To his surprise, the man was more correct than not: while Hotel Chamonix was not dirty, it was without air-conditioning, and more expensive. So we ended up staying at Apartment Hotel for three nights, where we had a small suite. We never figured out whether this man earned his commission from the hotel.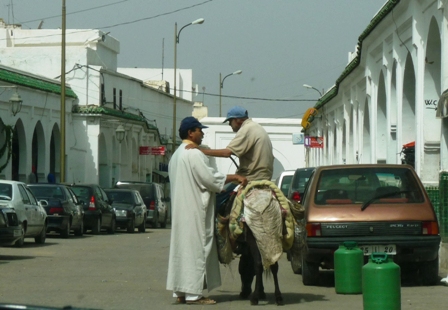 A main street in Moulay Idriss.
We whiled away the first day of our stay in Ifrane, eating our lunch in a huge restaurant where no other people ate. A group of police were the only other oepole there, but they didn't eat, only sitting around and nodding off the hot and quiet summer afternoon. We also checked out the area around the town center, including a meadow and some neighboring area overgrown with vegetation. It's such a respite from the Morocco that we had come to know. We watched TV on Dubai One, a satellite channel, which interrupted its programming at odd hours, in observance of prayer times in Dubai. The program they happened to choose to air on that 4th day of Ramadan was American movie "Terminal Velocity", which one wouldn't automatically associate with the atmosphere at large.
For the second day, we ventured out for a short daytrip to Fez (where the famous gate to the Medina, Bab Bou Jeloud, turned out to be much less grandiose than in pictures). And for the third day, another daytrip to Volubilis, the historical site of a Roman city near the westernmost border of Roman conquests, and the nearby Moulay Idriss, a religiously sacred and visually stunning hilltop city built by its namesake, Moulay Idriss I, a descendent of the Prophet Mohammad, and the founder of the city of Fez. Volubilis instantly reminded us of Delphi in Greece and Pompeii in Italy. Moulay Idriss convinced us that it is indeed possible to go back 1000 years…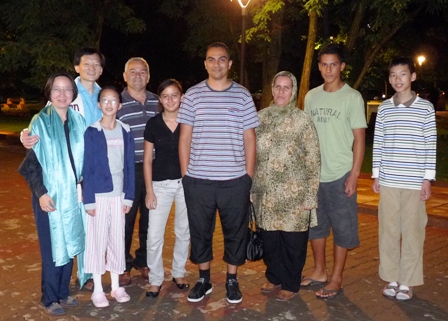 With Sami and his family.
Only in the evenings did Ifrane come back to life. Teams of small children came by, singing along the way, and played games by the town square, as well as some adults. It was here that we met the only real (though perhaps rather privileged) Moroccans outside of commercial settings. During our three days' stay in Ifrane, we met three local families. Each had at least one member who spoke English, which made our communications so much more meaningful. We bumped into the first family as we were trying to decipher the wording on a momument commemorating Mohammad V. It was two young sisters, named Iman and Ramniè (sound, meaning "pretty lips", we were told). They no longer lived in Ifrane, but came back during this time to be with their family. It's through them that we learned of the local Ramadan custom of eating a small meal immediately after sun down, going to mosque to pray, and then returning home to eat a large meal. The second family we met on a street, through a toddler named Maya, who was so happy bouncing and skipping around us. We played with her a bit and she led us to her mother and her grandparents. We learned that the grandfather is an official (secretary general) working for the Prime Minister. He was well spoken and well travelled. The third family was having dinner at the same restaurant as we were (La Paix). The eldest son of that family overheard us speak Chinese, turned his head, gave us a big smile and greeted us hello in Chinese! His name was Sami. He was a Moroccan engineer based in France, having worked in Qingdao, China (famous for its beer) for six months cumulatively. Besides him, the family consisted of his beautiful sister, his reticent brother, both high-school students, and his apparently well-educated parents. The father spoke some English as well (much more than our French). They were visiting Ifrane for the day from Fez.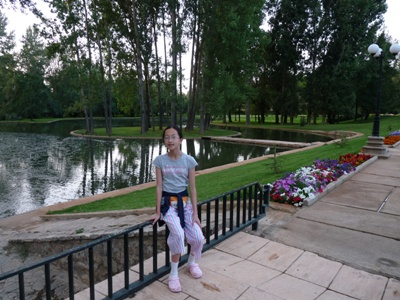 One day while wandering down the tree-lined sidewalk of a main road we came upon a beautifully manicured lake, where a couple of guards were manning a small guard house beside a private road, with no other building in sight. They indicated to us that we could take pictures with the lake as background, but not with the road. When we inquired about the reason, we were told that this was another royal palace. We wondered how many royal palaces the King owns, as this was the second time (first time when we were driving along an alley in Fez) we were asked not to take a picture because it was a "palais du roi".
Tangier
We were to leave Morocco from Tangier (or Tanger), a port city opposite the tip of Spain across the Strait of Gibraltar, leaving our rental car at the port, take the ferry to the Spanish city of Algeciras, and pick up another rental car there from the same rental car company, Europcar.
Making use of both superhighways in Morocco—one going East-West and the other North-South, we drove to Tangier. While this route is more roundabout, and both of these highways are toll roads, they follow gradually sloping landscape, and allow much higher driving speed. These are divided two-lane highways up to the standards of any developed country, and the roads were mostly empty. We stopped by an "aire de repo" (rest area), where the restaurant was closed. It was Ramadan season.
On the street of Tangier.
We arrived at Hotel Marco Polo in Tangier a little after 1pm. We were quite hungry but the hotel's restaurant was closed in between "petite dejouner" (breakfast) and "dejouner" (lunch). The hotel owner very helpfully took Jackson to his freezer, where he showed Jackson a piece of fish, which Jackson couldn't recognize by name or by look, but he was happy to try. The owner offered to deliver our meal to the "terrace" of our room. Within half an hour, our plates and table cloth came through the door of our room, and our food arrived over the roof of a lower part of the hotel directly onto our balcony. The balcony faces the beach, and nothing beats the gentle caressing sea breeze on a hot summer day.
As we checked in the hotel, the hotel owner examined our passports, taking a glance at us in disbelief: "You are not really Americans, right?" Agnes explained that we grew up in China. "China is good. We don't like Americans." After lunch, Jackson made use of the hotel's computer (there was no wireless network) to check the news. It turned out Sarah Palin had just made some harsh statements about the mosque to be built in New York City. The hotel owner was directing his comment at the "Americans" of the world. Ok, message delivered, Mr. Yusuf.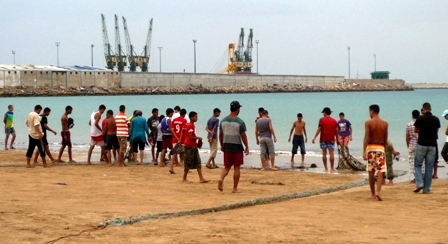 On the beach, youngsters pulling up a net.
In the afternoon and evening we strolled along the beach and around the city center. Tangier is another Moroccan city that's not quite Moroccan. It is all at once Berber, Arabic, Spanish and French and until not long ago was under the control of a consortium of foreign powers. The beach, inside of a bay that makes the port of Tangier, was covered with smooth fine sand. It was very broad and felt reasonably safe. A group of teenage boys were slowly pulling up a huge fishing net from the water, catching the fancy of many a local beachgoer. There were very few tourists. We wandered into a gift store, managed by a lady. Agnes was looking for a 'djellaba' (long lose-fitting robe, with a hood and long sleeves, worn by many in Morocco). But the kind in the store looked too formal and fancy. She settled for two simple 'gandora' (short sleeve, no hood) instead.
The next day, we drove to Tangier Med (Med for Mediterranean), a new port built especially for passenger crossing across the Strait, some 40 kilometers outside of Tangier, across rocky northern African coastal mountains and valleys. Here we were supposed to drop off our rental car, but that turned out to be even harder and more troublesome than the painful process we went through to pick it up.
First, we didn't see any sign for car return. Agnes talked to a policeman in very simple words, emphasizing that this car was "Europcar". The policeman told us to get into the line for cars. After a while Jackson realized that we were in the line for the car ferry to Europe! Apparently the policeman misunderstood us completely! With another policeman's help to remove the lane marking cones and a "no exit" sign blocking our way, we came out of the line of cars waiting for the ferry, and parked outside the main terminal 'Gare Maritime'.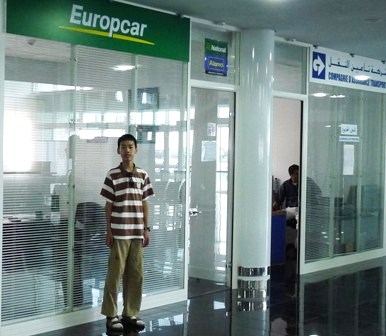 Europcar=National=Alamo=closed, late in the morning.
Inside the 'Gare' we were able to find Europcar's office, which was locked again. On the door was a sign with a telephone number for a Mohammed. We called the number, and was told to pass the phone to a man working in the office next door. Over the phone this man was given the instruction of getting our key, checking out the car, and giving us one copy of the multilayer carbon-copy form as receipt. Some two months after our return to the US the charge for this car rental showed up on our credit card, with an erroneous higher amount. We decided to just let it go.
Next, we went to the ticket booth to purchase tickets for the "Acciona Fast Ferry". There we were treated royally, on account of our American passports. The four of us were invited inside the ticketing office, with comfortable chairs as well as great attention brought to us, while all other customers were standing in line outside the office waiting to be served at the window.
Finally we were delivered to the large car and passenger ferry by a bus. But the ferry was delayed by almost an hour. As it turned out, some policemen were checking the paperwork and the inside of each car waiting to be loaded onto the ferry, and this important task apparently couldn't have started any earlier than when the ferry was ready to load them. Considering that this was during the quiet season of Ramadan, we had to count it as our luck that the ferry was not delayed any further.
Out of Africa
Compared with the epic exoduses from Africa in the history of human migration and evolution, the significance of our little crossing of the Gibraltar Strait must surely be reduced by astronomical logs. Nonetheless, it is the 'out-of-Africa' that we personally experienced and thus worth noting.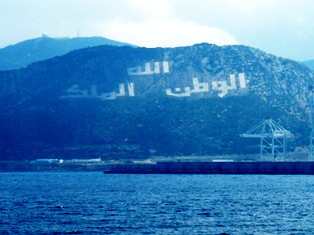 As we were leaving, a Moroccan farewell message was seen, but not understood.
Lessons in geography and history from our earlier life unduly focused on the demarcation function of the Strait of Gibraltar. Physically, the strait is in fact only less than 15 kilometers wide (about 9 miles). In less than an hour, the fast ferry took us smoothly from Africa to Europe. Behind us, gigantic writings on the rocky mountains of North Africa state something important that fell on deaf eyes of us, illiterates of Arabic. Straight ahead, on the starboard side, the rock of Gibraltar comes into more and more clear view. Somewhere more than half way across the strait, we picked up the cell signal from Spain, replaced our Moroccan SIM card with the Spanish one, and called Agnes' parents in Madrid. There we were, in between Africa and Europe, travellers from America, speaking Chinese. It's a small world after all.
Culturally, it is true that the Strait is symbolic of the great divide between the Christian European culture to its north and the Muslim Arabic culture to its south. However, upon closer look, it is really a continuous shift rather than a dichotomous divide. In Morocco, especially in Ifrane and Tangier, we saw long lasting influences from the north. And Andalucian Spain, where we were heading next, illustrates the cultural contact, conflict, and convergence to a level rarely surpassed.
So, the truth may be that we never really exit. When we think we do, we always bring something with us, and we always leave behind something as well.