228° panoramic view of Gibraltar, from Moorish Castle. Our car is near the middle of picture (SUV-like). On the left, one can see the runway of the Gibraltar International Airport, and crossing it, the main road in and out of Gibraltar; on the right, part of the city.
Southern Spain and Gibraltar
Jackson and Agnes He
January 2012, Long Island
In 1492, Columbus discovered America, making it possible for Agnes and Jackson to meet there some 500 years later. Columbus did so under the aegis of "Catholic Monarchs" Ferdinand and Isabella, whose forces forced the surrender of Granada by the last Muslim ruler on the Iberia peninsular, Muhammad XII, at the beginning of the same year.
In the summer of 2010, 518 years after Muhammad XII gave the keys of Alhambra to Los Reyes without having to suffer the humiliation of having to kiss their hands, the four of us got to enjoy the result of that peaceful surrender, and visited Andalusia Spain.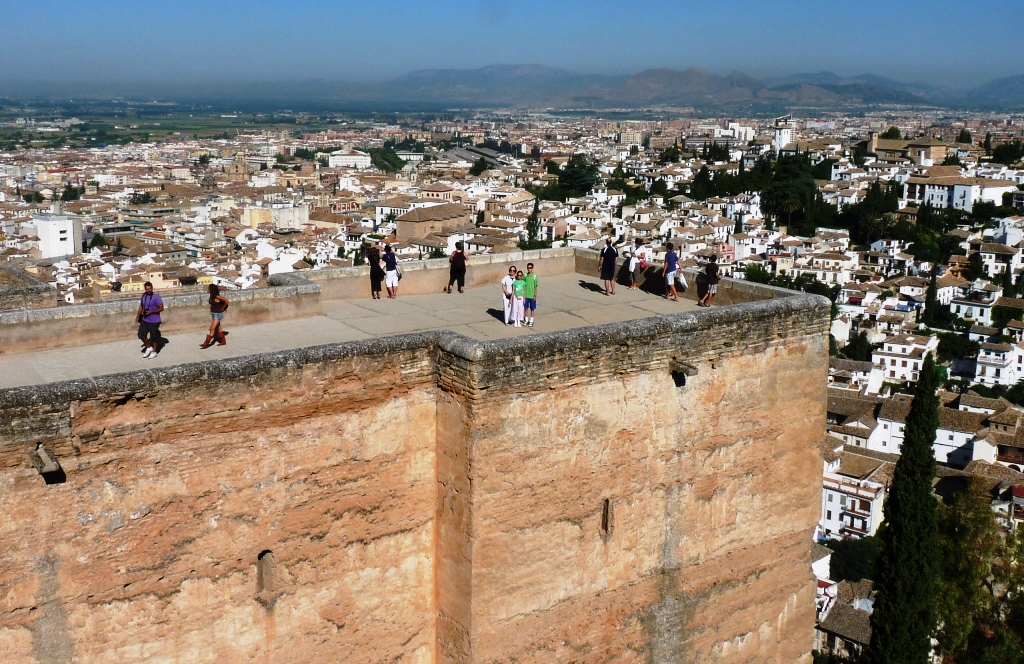 Alcazaba (cidadel), Alhambra. In the background one can see the Albaicin district of Granada. (Click picture to enlarge.)
That summer, we entered Spain three times, the first time by air from New York to Madrid, the second time by sea (the Gibraltar Straight) from Tangier, Morocco to Algeciras, and the third time by land from Gibraltar, UK to La Linea de la Conception.
By the time we arrived in Algeciras by fast ferry in mid August, we had spent 10 days exploring Morocco and taking in the Berber, Arabic, and Moorish culture. We then spent 6 days in southern Spain tracing the contours of the conflict and convergence of two cultures: the Muslim and the Christian. From Algeciras/La Linea, we drove to Marbella to check out the "Costa del Sol", and to Granada where we spent 2 days, and onto Las Alpujarras (Lanjaron and Orgiva), and from there to two small towns between Granada and Castila-La Mancha – Úbeda and Baeza, before returning to Madrid.
This was our second time touring southern Spain. The first time was in 1 B.C. (before children), during our very first visit to Spain (and Europe). We zipped through Cordova and Seville in the south, as well as Madrid, Toledo, Segovia and Barcelona in the north. We were young and youthful then, carrying nothing but backpacks, hopping on and off the train on the spur of the moment. This time we are travelling with children, with greater resources, better knowledge, and more time.
Gibraltar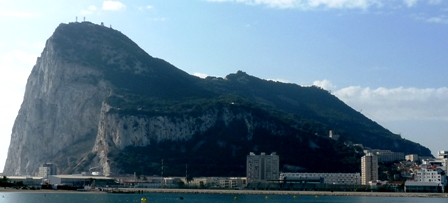 The Rock of Gibraltar seen from our ferry. The isthmus to Iberia mainland is on the left.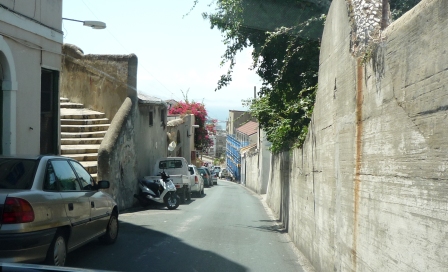 A street with high grade of descent in Gibraltar.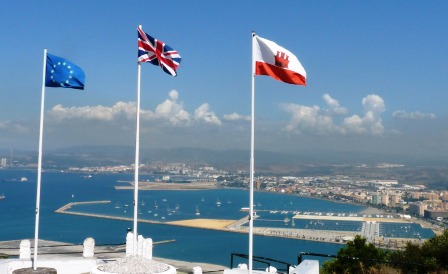 The flags of EU, UK, and Gibraltar, outside the Great Siege Tunnel. The Spanish port of Algeciras is seen in the background.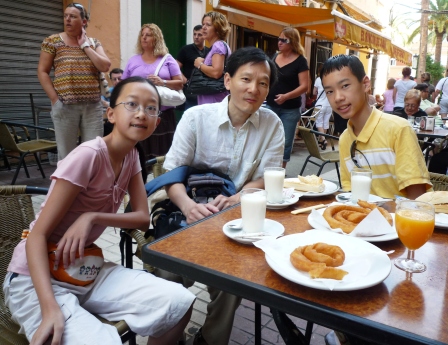 Breakfast with
churros
in La Linea de la Conception.
The reason for our two nights stay in La Linea de la Conception was to visit one ginormous piece of rock overlooking Africa on one side and Europe on the other: Gibraltar. The history of Gibraltar can be dated to the Neanderthals – way too long and too complicated for us to give a decent account here, except for just one word about its more recent multicultural connections. The name "Gibraltar" is a derivation from Arabic "Jabal Tariq" (meaning the Tariq Mountain, referring to the rock). And "Tariq" is the name of a Berber general who entered the region prior to the arrival of the Muslims.
From our hotel in La Linea (Hotel Miramar), it was a few minutes' drive to reach the Spanish/Gibraltar border. Then we waited for about 30 minutes in line for all the cars to be checked at the border control. It takes Herculean courage to drive up and down that Herculean Pillar, another name for the Rock, along its very steep, and very narrow mountain (or rather rock) paths. Jackson did that with no fuss, no sweat—to him, that was the part of visiting Gibraltar with most fun. Along the way, we visited St. Michael's Cave, the Great Siege Tunnel, and the Moorish Castle.
By early afternoon, we were already down from the Rock. We added gas (or petrol, as it is under British control here) and bought ice cream at a Shell Station on the Gibraltar side, followed the "To Spain" sign and returned to La Linea. No one checked our passports at the Spanish border control.
Gibraltar is now a British overseas territory, enjoying a large degree of autonomy. But its rich historical linkage and its territorial connection to Spain make it a landmass Spain wants terribly as part of its own, even though Spain ceded it to Britain in a treaty in the 1700s. The Great Siege Tunnel is a defensive setup used during a long period of siege in the late 1700s, and is a piece of military art to behold (just be careful with your head when you walk in it!).
Even today, Spain has not completely given up its claim on the Rock, although the relationship between Spain/Britain/Gibraltar has normalized since about 1980s. Across the Gibraltar Strait, the kingdom of Morocco has a similar desire to see a couple of cities on its shore returned from Spain to Morocco. Just around the time of our visit, an economic blockade was going on against the Spanish towns Malilla and Ceuta, due to the discord between the Spanish insistence on having female as well as male border guards (equal rights for women is a European ideal that Spain cannot get away with) and the Moroccan unease with females checking out unrelated males. In the end, the Spanish King called up the Moroccan King, mended their brotherly love, and donated a few million Euros to recompense for the injured Moroccan feelings.
La Linea de la Conception is a friendly, cozy place. We enjoyed our breakfasts there at an alley restaurant, where locals gather and enjoy the beginning of their day. No one seemed to be rushing to work. Yiran and Agnes loved their churros; Luran and Jackson savored their tostados (toasts). From there, it took us a few hours (with a stop in Marbella, with which we were not particularly impressed) to reach Granada, where our main interest was the one and only Alhambra.
The Alhambra
Alhambra, the grand castle and royal residence of the Kingdom (Emirate) of Granada for hundreds of years, stands on a promontory of the highest peak in Granada. It is meant to stand the test of time unless there is a fight to the last man. The buildings are well kept throughout, with a few signs of Isabella and Ferdinand interspersed with mesmerizing Islamic architecture, decoration and inscriptions. This palace alone gives us sufficient reason to revisit southern Spain.
Alhambra, formally Alhambra and Generalife, consists of three parts, the Nasrid Palace, the citadel, and Generalife which is a garden palace. Our hotel is right under the citadel, from where Alhambra is about the same distance as is the place our car is parked; but the walk up to Alhambra, though nicely shaded, is quite steep. We started early, and were among the first to enter—following the many postings found on TripAdvisor, we reserved the tickets a couple of months ahead of time, and picked up the tickets from an ATM-like machine (called "Caixa") the day after we landed in Madrid, so that we didn't have to wait in line for the tickets, or risk not getting them.
The Nasrid Palace is the crown jewel of the place, and each ticket is given a specific period of time to enter the Palace. Inside, the delicacy and intricacy of the Islamic decorative art is one million times the intensity of that seen at the Medersa in Morocco, to the degree that we felt goose bumps all over. The Court of Lions, a symbol of political and economical power at the time of its prime, was still being renovated. But one can imagine its former grandeur from the empty courtyard and its surrounding buildings, and from the exhibit housed in one of the buildings enclosing the courtyard.
The citadel is prominently built over the precipice, overlooking the historical Albaicin district, home of the moors (a special term, although sometimes considered pejorative, given to people who live in Iberia peninsula but believe in Islam, or came from north Africa), before their eviction from the city following the fall of Granada in 1492. The view of the Albaicin district is spectacular. We could easily identify the approximate location of our hotel (Palacio de Santa Inés, which is itself blocked from view by other buildings), Plaza de Nueva (a plaza not far from our hotel, where we had our meals), and the green dome of Granada Cathedral, among other things. Other than the bird's eye view it affords, the citadel is only mildly interesting. A walk on top of the outer wall would have been nice, but it wasn't open.
Generalife, however, is as grand and spectacular as a garden palace can ever be. It far surpasses the Kensington Gardens, and easily compares with the Gardens of Versailles. Carefully manicured trees and shrubs mark out long and peaceful walkways, conceal secret hideouts, and form decorative walls and ramparts that channel the Great Wall of China. Its hilly landscape in the back is put into great use into layered garden and palaces, with reflection pools and a shrub matrix as some of the highlights.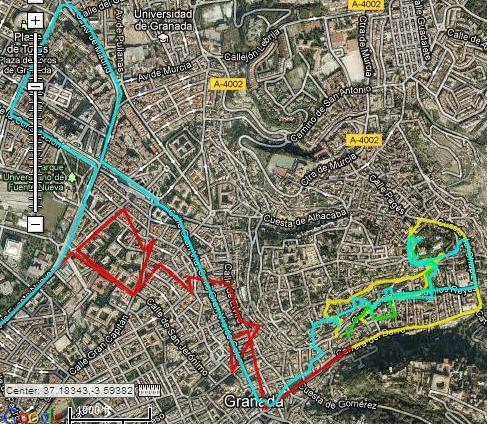 Our GPS track in Granada is circuitous. Red track: drive to hotel; yellow: drive to park car, and subsequent walks on that day; light blue: walk to car and drive out of Granada.
Mouse over the map to see flagged locations: Hotel, Car, Alhambra (Citadel).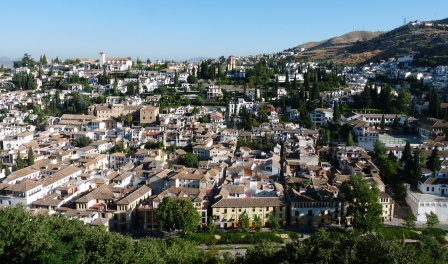 Albaicin seen from Nasrid Palace.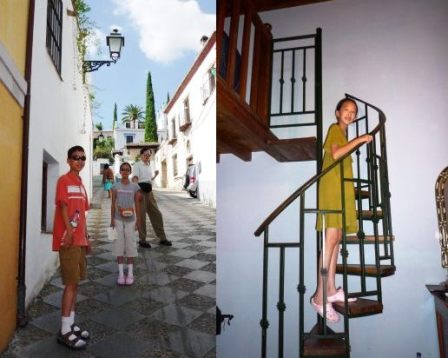 Left: A street in Albaicin barrios. Right: Our room in Palacio de Sta Ines is retrofitted with a loft—perfect for kids!
Albaicin Barrios
Our hotel in Granada (Palacio de Santa Ines) is exquisite with artwork by disciples of Rafael in the 16th century but finding it was almost impossible. It is located within the Albaicin Barrios, which shares its UNESCO World Heritage Site designation with the Alhambra and Generalife. This rich history, however, is partly responsible in making the district extremely hostile to vehicular traffic. After we parked our car illegally and precariously on the steps of a side street (and sideways too!), so that we could unload our luggage, Jackson had to drive the car out for some 15-20 minutes, in order to find a space large enough to park our car. Were it not for our GPS, which was turned to walking mode but lost its signal often due to the high walls all around, he might not have been able to find our hotel again after parking the car, or our car after finding the hotel!
Maybe it was easy for Isabella and Ferdinand to get into Granada. After all, they were on horsebacks, with people guiding them along the way, and they didn't have any traffic rules to contend with. On the other hand, it was a nightmare for us to get into, and then out of, Granada. On the way in, our GPS insisted on us making some illegal turns, and we had to improvise our way after finding ourselves driving in a loop, due to some one-way roads and no-turn intersections the GPS was not aware of. On the way out, Luran and Jackson went to get the car while Yiran and Agnes waited at the Plaza de Nueva. At one point, we passed a sign that we didn't quite understand, and consequently its content didn't register in our mind. Only several hundred meters later, when the alley narrowed down so much, did Jackson realize that the special sign was saying something like "Absolutely no passage for vehicles wider than 1.5m!" Well, by that time it was impossible to back up this narrow one-way alley. With both rear view mirrors folded in, the car was pushed through the narrow passage way between stone buildings, all the while with the wheels of the mini-SUV-like car making a nerve-racking squeal.
All this difficulty for vehicular traffic made a great haven for foot traffic. We were able to explore the district in several different trips, to the car, to the Cathedral, and generally in the neighborhood of our hotel. Cafes are plentiful, food was good and inexpensive, and the cobble-stone streets made walking particularly enjoyable. As long as money was not a problem and hotel was secured, life was as easy and free as it could be.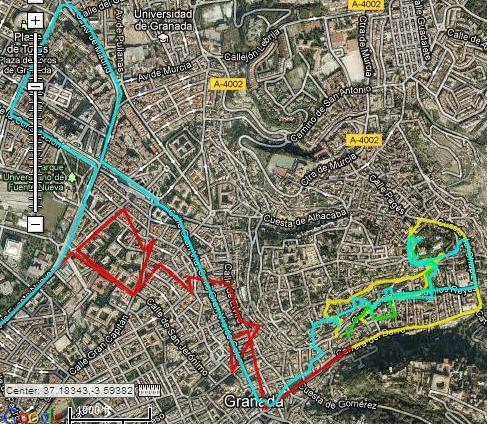 Las Alpujarras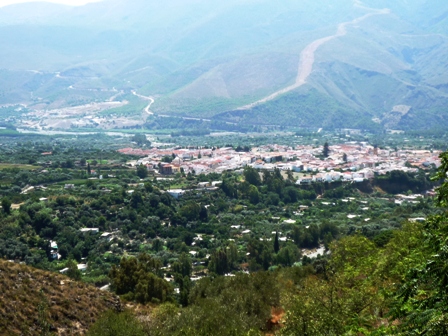 Pampaneira, a town in Las Alpujarras.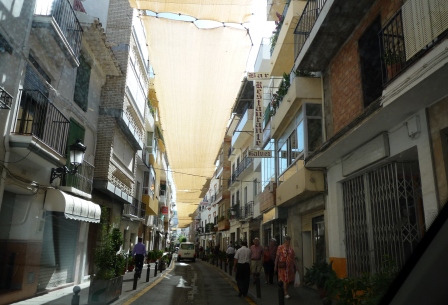 Órgiva, another town in Las Alpujarras. Note the sun shade over the street, which is commonly found in Morocco, but not seen elsewhere in Spain.
After Granada, we headed to Las Alpujarras. This is a mountainous region that served as a refuge for the Moors after they were chased out of Granada, with several small towns scattered over a large area on a rugged terrain on the south side of Sierra Nevada Mountains. The landscape is extremely hard, and the hairpin road is gut-wrenching to drive on and head-spinning to view. We drove through two towns, Lanjaron and Orgiva, and decided to turn back when Yiran got car sick and everyone else was beginning to feel funny in their stomach. We spotted a Chinese restaurant in Orgiva, an "American Indian Reservation" of Spain! We had a comfortable lunch there.
The Moors were nowhere to be found, although the style of their buildings is still recognizable. After withdrawing from Granada, they were promised freedom to practice their religion and culture, but the promise was quickly reneged. They had a rebellion in the late 16th century, which was quickly put down, and the Moors were subsequently driven out of Spain.
The Moors built magnificent cities in southern Spain and brought to Spain education, science and art at a time when the vast majority of Christian Europe was illiterate. The Moorish impact on Spanish culture gave Spain its unique richness and charm among all European countries. But Spain had no place for Moors the people. It's like a couple – one person says I love what you have and what you can do for me but I don't like you the person, so leave me what you have and go away and get lost… Such is a sad and sobering slice of Spanish history.
So it was with a somewhat heavy heart that we left Las Alpujarras for the medieval towns of Baeza and Úbeda.
Úbeda and Baeza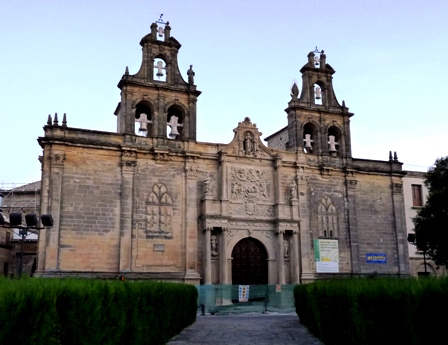 A church in Úbeda.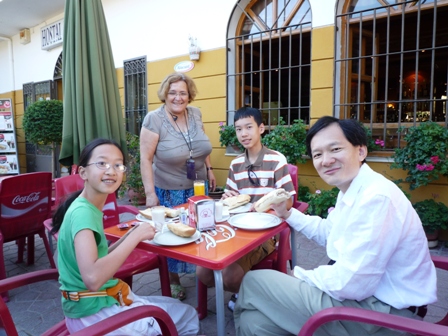 Breakfast at a roadside
hostal
in Baeza.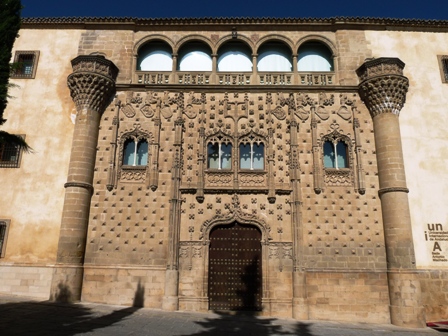 This famous plateresque building in Baeza is now part of a university.
It was a stress-free drive from Las Alpujarras to Úbeda (another Arabic name). In late afternoon, we checked in our hotel Husa Rosaleda de Don Pedro, on a very quiet street, in a very quiet town lost in time. At 8pm, nothing was open for dinner. Starving, we bought sandwiches from a refrigerator in a convenient store. They tasted stale and awful. Late in the evening from 9-10pm, we roamed around this tiny town in dim light and found ourselves teleported into a different space and a different time all at once.
Úbeda and Baeza are two neighboring small towns that have witnessed and welcomed the Romans, the Vandals during the Byzantine Empire, the Moors in the Middle Ages, then Ferdinand, and then the local nobles in the 16th century. They have been home to Muslims, Christians and Jews alike and at the same time. After the 16th century, the area went into decline, which means it stopped developing, thus preserving all the squares, churches, palaces, statues and fountains. It is said that these towns represent the best of Renaissance town planning in Spain. The buildings there look unique in ways that are hard to put in words. They look like some of Italian architectures we have seen before in Florence and Pisa but then they are also distinctly different. They are partly Romanesque, partly Gothic, partly Baroque, and partly Moorish. Later we learned the term "plateresque", which specifically refers to this type of 16th century Spanish architecture.
The next morning we had a hearty breakfast (after the terrible dinner the night before) served by a lovely lady called Juanita at a roadside restaurant upon entering the town of Baeza—again, not through a lack of trying, but we just couldn't find any place to eat in Úbeda at the time we wanted! With its impressive facades, Baeza did not disappoint us. It is hard to imagine this quiet sleepy town used to be a flourishing Moorish city with 50,000 inhabitants. Everything has its time.
From Baeza to Madrid, it only took less than four hours by car. But by the time we arrived at Agnes' parents' place, it felt that we had travelled through more than four hundred years.